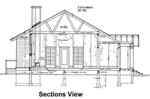 About Our Company
The company is owned and operated by Terry D. Smith, an architect who has been in the business of architecture for over 30 years and has been acting as a licensed architect since 1992 in the states of Arizona, California, Utah, and Washington.
It is has been our goal to work closely with our clients in helping them achieve the best quality architecture product possible by being architects that are responsible, understanding, open minded, flexible, with the highest degree of integrity, and focusing their talents to help create what the client wants whether that be new construction, remodels, or additions.
We regard the needs of each of our clients with a level of high priority, whether they are a municipality, commercial small business, residential home owner, or general contractor regardless of the project's scope of work or size of budget.